Belfast Chalk Walk 2022
Stroll downtown Belfast and Heritage Park to see artists at work during our sixth annual chalk drawing festival.
Enjoy live music from Roy Davis and the Tusk Audio Session Band at 12pm in Heritage Park, in partnership with the WERU Summer Concert Series!
There will also be a community-draw area where all are welcomed to make their mark! This is a family friendly, free event. We suggest coming through once mid-morning, and again at the end of the day to see the finished work.
CALLING ALL ARTISTS!
Artists are invited to reserve a 4′ x 4′ square of pavement on which to draw a design of their choosing. Approximately 30 spots along the Harborwalk–as well as locations throughout downtown Belfast and Steamboat Landing Park– are marked out, assigned to a registered artist, and ready for drawing.
While advanced registration is required, participation is free; chalks, rags, knee pads and water are provided, along with a slew of tips and resources for newbies. All that is needed is family-friendly subject matter–artists can let Chalk Walk planners know about their ideas ahead of time. Organizers at Waterfall Arts encourage artists of all sorts to give this drawing festival a shot
Those uneasy about being watched while working may reserve one of a limited number of spots to be completed the day before the event.  Waterfall Arts is specifically looking for chalkers to draw up way-finding arrows on September 9. 
Young artists are always encouraged at the All Ages Art Happenings hosted by Waterfall Arts. Artists under age 15 can register for a 3′ x 3′ spot, alongside fellow up-and-comers while anyone (and everyone) is welcomed to draw in the community drawing area.  
The Belfast Chalk Walk is free to the public; donations are welcomed to cover the cost of supplies.
Register for your sidewalk spot today by contacting Bridget Matros at bridget@waterfallarts.org or call 338-2222. RAIN DATE, SUNDAY SEPTEMBER 11.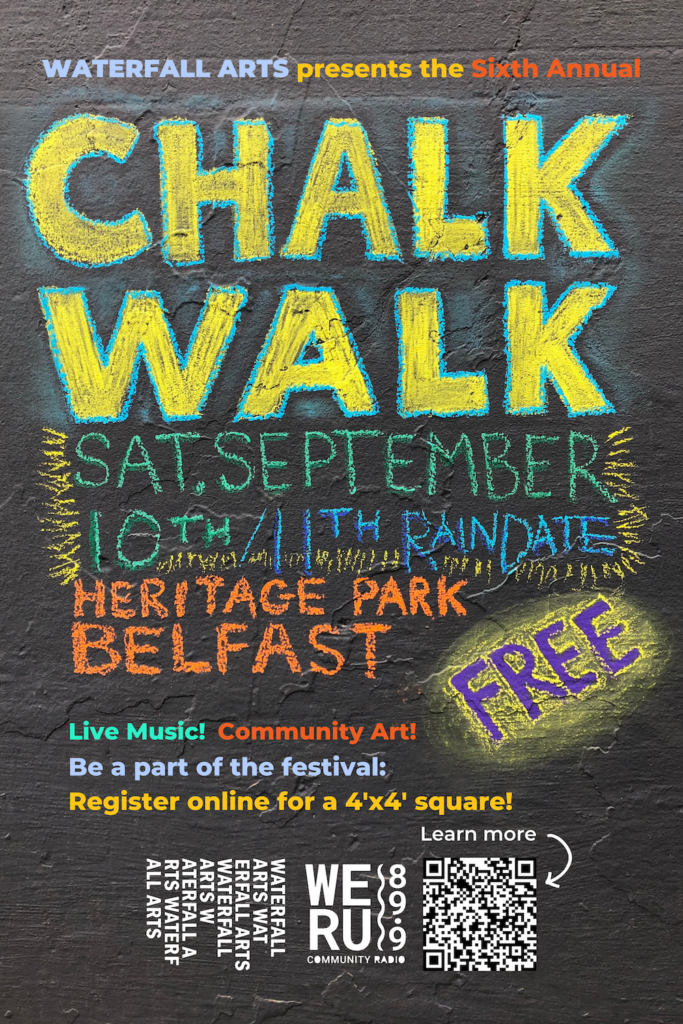 Related Events