This is a continuation of a post from Part 1 – read that here first!
Thursday: I'm so happy to be a part of the "Community Food For Kids" project by Literacy Volunteers, a program of Belfast Adult Ed spearheaded by Denise Pendelton. There are so many kids outside of Belfast's downtown area who miss out on the Belfast Free Library, our public parks, and meals provided at the Soup Kitchen or schools. Fortunately, there's a caravan of folks who bring resources right into low income neighborhoods – free nutritious bag lunches, crates of books to choose from, 4H activities, and more.  Four sites in East Belfast are each visited five days a week, all summer long. At the first stop, I stayed after the lunch ladies departed to help out a pair of twins that had just gotten started on their cardboard weaving looms. "I'm really good at this," declared the boy, who would then refuse to take his weaving back into the condo. I have my guesses about that. The biggest fan of my container overflowing with (donated) yarn was a cat named Ollie.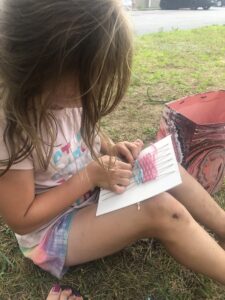 When I got to the next stop, a grassy knoll across from a row of quiet mobile homes, no one was there. The hit-or-miss nature of drop-in social services on hot summer days means alternating between "(crickets) why are we doing this?" and being surrounded by a crowd of kids at the next stop, each starved for attention and devouring the offerings. I met three new friends about to start high school that will hopefully get a ride to the Young Artists Studio next week. One ran back into her apartment to fetch her sketchbook – I was so impressed that she'd share her work with me. Kudos to her super supportive bestie, who "made her do it."  They all sat side by side weaving in silence to the astonishment of a grandmother who brought out her three little ones to join us in the grass. The Book Lady pulls up beside my car and conversation shifts to what they like to read. Book Lady takes fastidious notes on which kids are interested in what, and presented a huge book on basketball players to the oldest boy. His elation was just about as sweet as sixteen-year-olds get. A neighbor and his adult son (who happened to work in our darkroom at Waterfall for a while) had come out to chat with me before the kids started to trickle over. This guy seems to be served by the caravan, too – he went on about enjoying having all the kids around (in his side yard) and how he loves to see them get so excited by books, art projects, and new friends. Apparently, one week a kid took an extra lunch and left it on his door step.
I took some notes on my phone and packed up my gear. Swooped into Waterfall for water and to make a bunch of copies of some resources for parents about creative development – the next stop was all about the freebies!
Stephanie Holman, Youth Librarian at Belfast Free Library, pulled together a free "Family Fun Fest" event at the Boathouse and all of us were excited to get the invite to table at it – with no idea if we'd have a huge crowd or if just a few families would brave the heat. I set up between our ole' pals, Belfast Historical Society and Penobscot Marine Museum. I drew pairs of eyes on big sheets of (donated) paper with bowls of my trusty paint sticks – a creative challenge slayed by about 20 visitors during the one hour event. Every family went home with bags of loot. From Waterfall: a packet of tips for parents, our calendar of offerings, a sticker, a pack of crayons, and I think most valuable, a stack of extra large art paper! When Images (the local printer) closed, they donated reams of paper I have been gleefully re-gifting since. Young artists need LOTS of PAPER! Anyway it was an impressive turnout for a first time event and I expect it will grow epically.
It was a super hot day and I'd missed lunch so I went home to chill/email and didn't return to Waterfall Arts until after dinner to unload. I discovered a FREE ART ACTIVITY TODAY sign I'd left out on the street during my evening walk.
The prior Thursday I was in Frankfort for Waldo Community Action Partner's "Community Cafe" there; free lunch for kids and elders. We were set up in the grass beside the Library, and after eating huge salads under the tent, a dozen or so kids jumped in on painting with watercolors. One pair of brothers came to Belfast for Young Artists' Studio this week 🙂 Heading to Burnham for another WCAP lunch next week!
Friday mornings one has to travel light, as parking at Waterfall Arts is full by the time I roll in – the Belfast Farmers Market and Art Market are packed around our building every week of the summer. I was met by one expected and one bonus kid-helper to staff our table at the Art Market. NikoJin Designs (who also has a table at the market) donated a HUGE slew of silver charms last year that we have combined with bead donations for a little shop of $1 goodies. It's a highlight for both bored kids with allowance to burn, and adult creatives. Only charging $1 (or $5 for our fancy items), we raised over $300 for the Kids and Families Programs last summer.
My dedicated junior staff (see photo above) allowed me to get some work done at my desk like an actual adult professional for a couple hours,then I headed into our cellar to box up (donated) bisqueware for Art In The (Beer) Garden on Monday night (when Marshall Wharf lets us take over their space for adult date-nights with their beer and laid-back art projects. It's pretty great!).
I love my Saturday Art Together Mornings but I was so glad to have that weekend off!