Hi, all. Bridget here, the Youth and Families Program Manager here at Waterfall Arts. I think people may know me as a leader of camps, afterschool programs, and community events, but there's a slew of stuff that's "off the radar" publicly that is the heart and soul of my work. My mission is to connect as many people with the power of art as possible – which requires getting out of our building and beyond our loyal community to spread the "gospel" that creativity involves a survival-skillset to which everyone needs access. Here's what that looks like on a particularly awesome summer week:
Monday: I actually have very low-key Mondays; it's my only day to stay out of the Bridge Studio and get my planning done. (My time in the building is spent dealing with stuff: cleaning, sorting, moving, packing, prepping, organizing, breaking down, etc. If you're ever looking for me, check the supply closet!)
Tuesday: After our staff meeting (which, thanks to our office manager Cate, often involves delicious birthday cake and party hats) we open the doors for Young Artists Studio, an open studio program for kids 8+ to come in and use our supplies on whatever they want. This week we had thirteen young artists, all buzzing around the room inventing and building and experimenting. Shy first-timers get past the overwhelm of possibilities and are "in the zone" within minutes, doing the work of problem-solving their way toward what they envision. I could use an adult volunteer to take some of the constant requests for help or a particular item. It's two inspiring hours of, "Miss? Do you have a wooden spoon? How do you draw a canon? Can you tie this? I spilled the glue…"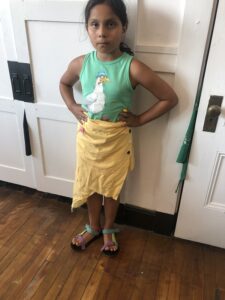 After the kids are gone I clean up the aftermath and pack up my car for the next morning. If you ever see some maniac driving up the sidewalk to the front doors of our building, that's me 🙂
Wednesday: After morning emails I head to Belfast City Park where I'm met by some helpers that were in the last session of Bridge (our afterschool art club for sixth graders). This week, we made new friends from California and New York, plus our weekly regulars came by to make pinwheels, too. "Take the materials and go work wherever you want" makes for more parents letting loose on their own project, which I LOVE!
I had one helper prepping tiny balls of yarn for me, another sharpening pencils, until a passer-by asks them sadly, "Does this belong to any of you?" and holds up a crushed iPhone found in the gravel by our table. Tears commence. I start texting moms to pick up their kids, who are now wholly washed away in the drama of it all.
I packed up the table, chairs, signs and container of stuff back into my car and headed home for lunch before switching materials at Waterfall Arts. Out with one bin, in with two others! Time for a visit with campers at the Waldo County YMCA… my favorite age group, Pre K – 2nd grade! With the "littles" group, I started with some circle-time (including a ditty about the primary colors that only professionals could bear) and established how my MAGICAL PAINT STICKS work before we started creating "color cards." More singing. I could do this all day.
As a result of Covid, staff in schools and day care are working with very wide ranges in ability levels, and do so beautifully. Artmaking is a great equalizer for that situation!  The older campers did a fantastic job of mixing secondary colors with crayons (whaaaat?) for their own color wheels. I'll admit I was surprised at how engaged and persistent this crew was, taking on a somewhat academic task at 2PM on a hot summer afternoon. But I asked them if they were ready to take their use of color to the next level, and they answered 'yes' to the call!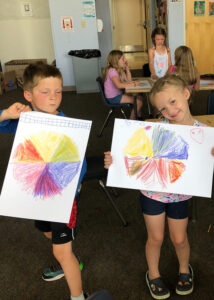 Back to Waterfall Arts to unload and prep for two programs the next day. Then, emails.  Hit the Dairy Queen drive-thru for dinner while searching town for craft magnets. Met our Program Director and co-conspirator Amy Tingle at the Hutchinson Center for a super energizing gig, providing some much needed art-time to a conference of school nurses. They were crazy fun and did really well on their dot mandalas! This was a rare but much-needed income-generator for Waterfall Arts that I hope to be doing more often! Although it was a long day (home at 9:30pm), it was totally worthwhile.