"When Art Found Me" is a series of human interest pieces that Waterfall Arts is piloting, in an effort to focus on the people in our circle, so that you may get to know us a little bit better. Starting with our staff and expanding the circle outward, we ask folks to respond to the prompt: Tell us a story of when art found you.
---
Next up: Glassblowing Instructor, Brian Frus
Art is within all children. At six years I wrote "When I grow up I want to be an artist or a naturalist." While my natural creativity, artful exposures, and supportive family all equipped me for a creative career, it was through formal training in my early 20's when Art took hold and wouldn't let go.
We discovered glassblowing when my father, brother, and I enrolled in a workshop. We were hooked, and after a year of community classes I decided to enroll in Art School to pursue a degree in Glass.
College study was great for my artistic development, giving me a solid foundation of knowledge about glass techniques, equipment, and teaching. I loved the critique, the community, and the freedom / encouragement to create. But it was later, in Graduate school, that I truly snapped awake as an Artist.
To combat that dire prediction I pushed myself deeply into an authentic rigor of conceptualization, design, and effort applied to art making. This push resulted in my success story (I passed with top marks), and I've never forgotten the lessons gained from that experience.
I knew then that Art had found me, and I would be an artist forever more. Now, not so far apart from my childhood dream, I am a professional artist often sculpting glass works that are naturally inspired.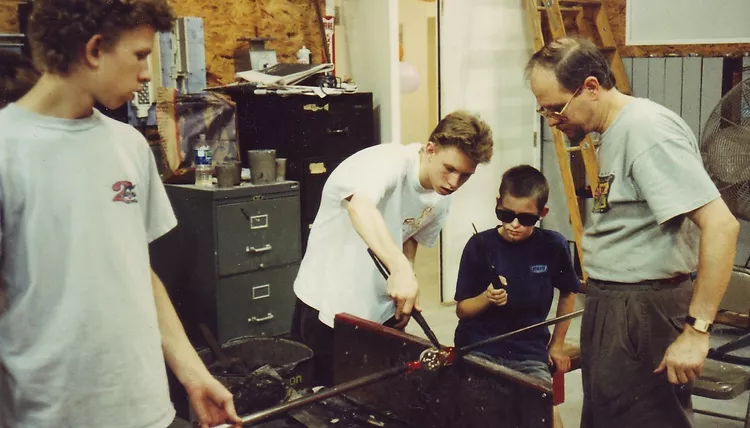 See Brian's work online at www.BrianFrus.com.