"When Art Found Me" is a series of human interest pieces that Waterfall Arts is piloting, in an effort to focus on the people in our circle, so that you may get to know us a little bit better. Starting with our staff and expanding the circle outward, we ask folks to respond to the prompt: Tell us a story of when art found you.
---
Next up: Marketing and Development Manager Chris Battaglia
"It was my after-school program at my Los Angeles elementary that (I think) provided the art spark for me. Our teacher Dave so lovingly called all of us 'biscuits' and unfalteringly sheltered us wee ones from the brutal outside world (like protecting our innocent minds from the meanings of ill-named song titles from equally ill-named angry rap-rock bands from the 90s [definitely do not look them up]).
Dave is the one I remember teaching me how to draw Chewbacca and other mind-numbingly tedious Star Wars characters at picnic tables under open-air eating areas on the playground. I remember when I picked up my first "How to Draw Cartoons" book and began to understand human figures as circles and lines.
My piano teacher until ages 10 or 11, Brad Gordon, who wore a velvet blazer and corduroy bellbottom pants and tinted transitions glasses, taught me ragtime which opened my mind to jazz. And going back further, I feel like it was my father playing "Jessica" by the Allman Brothers Band that gave me the urge to announce I felt like I was "going around the world" when the baby grand piano reverberated and soared while the key of A major, washed over our living room every evening.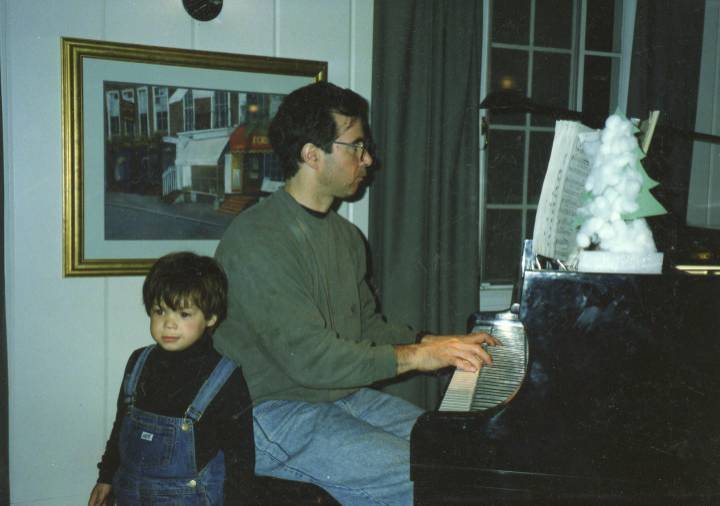 Tony Rambo taught me guitar in middle school when the piano had had enough of me (and I, it), and somehow I fell in love with a new art all over again. This art began with Jimi Hendrix and and moved into jazz stylings that predetermined how I will forever play the instrument today. At the same time I remember my art classes in school letting me run wild. It was that one colored pencil image I drew with the blue and yellow cactus and a purple sky (that becomes a line) that tells me who and what I was back when.
But somewhere along the way it was lost.
Lost in the drive to overachieve, compete with myself and others, I was always try to "make it." But recently, a close friend put it poignantly that "life is not about becoming the best, but about becoming yourself." Ironically, it was the visual art and music from early on that I have re-discovered in ways that make me feel wholly and completely myself.
I found my way into the woodworking studio at Haystack Mountain School of Crafts in Deer Isle in 2016. This experience when paired with a canoe paddling expedition a year later, reminded me that all I have to do is write or draw or paint or make music to find myself feeling whole again.
It took some courage and many years, but I finally started replying to an oft-asked question with "yes, I'm an artist." I don't always know how, and I don't always know when, but if I've been found over and over again, I'll wager it can keep happening–and I'm not a betting man.
---
Did Chris' story spark something inside of you? Tell us a story of when art found you. Email us and share an image with your story from that moment in time. Help us expand our circle even wider than before.