FOR IMMEDIATE RELEASE
Waterfall Arts expands glassblowing reach with Belfast Community Outreach Program in Education in the popular new craft studio this semester.
(BELFAST) Waterfall Arts Glassworks, the new publicly-accessible community glassblowing studio established in 2021 by Waterfall Arts, further establishes its presence in the community with a recent partnership with alternative school program Belfast Community Outreach Program in Education (BCOPE).
BCOPE is the alternative program for Belfast Area High School. The school began in 1990 as a result of a grant from the Office of Substance Abuse. A pilot program was created to work with a small number of at-risk students to develop the school district's mission of "reaching and teaching all students."
"Before we started this partnership, we wanted to make sure that we could collaborate with BCOPE in a strong way," says Kim Fleming, Executive Director of Waterfall Arts. "This meant that Waterfall Arts would need to understand BCOPE's standards of learning; fortunately, since the glassblowing studio began, we've learned that glassblowing requires a totally different approach than many other art and craft forms."
This alternative approach to setting up a community glass studio as a form of outreach parallels the outreach and out-of-the-box approach to education at BCOPE.
BCOPE Teaching Principal, Helen Scipione, is "so grateful to have this opportunity for our BCOPIANS at Waterfall Arts. We believe that everyone is smart in their own way and that the best way to build self esteem is through a job well done. The glass blowing class is an excellent example of our philosophy in action."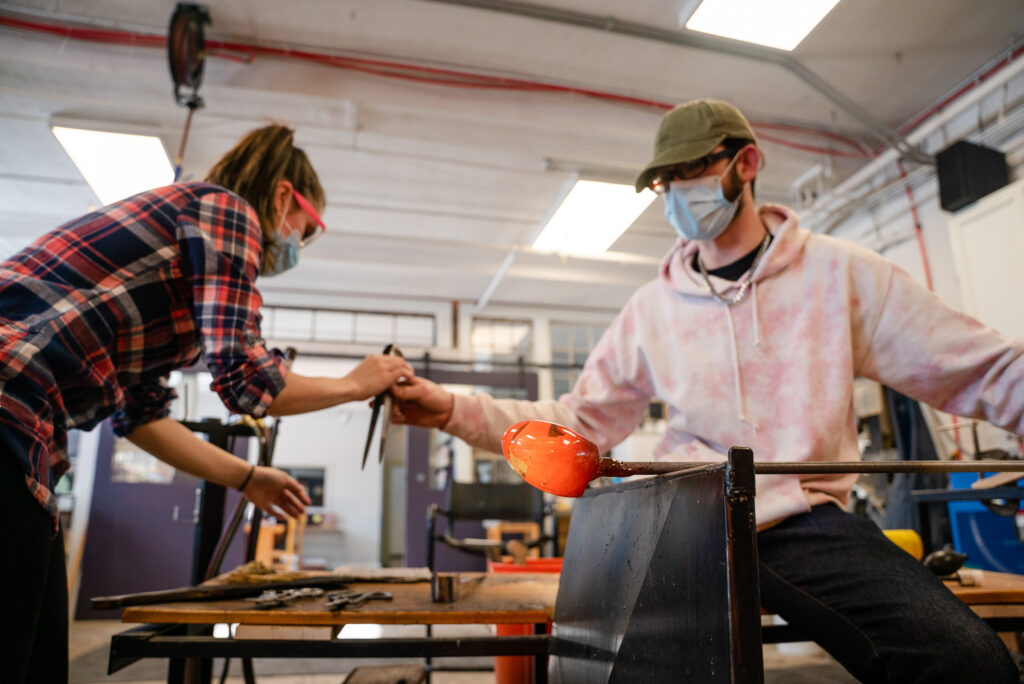 But projects like this don't happen in a vacuum. An anonymous donor made it possible for Waterfall Arts to offer this course to BCOPE for free, and it is the hope of Waterfall Arts leadership that more generous donors will continue to come forward to sustain this program long into the future.
A new cohort of six students emerges from the RSU71 school bus at the start of the second semester in this academic year. This is the second of two concurrent high school groups–in addition to the next class of Belfast Area High School students–taking a glass elective during the school week.
"Having spent time in the classroom and years as a teaching artist, I know how important it is to recognize that each learner processes information in different ways." says Amy Tingle, Program Director. "Some students learn best when they have the opportunity to be completely immersed and hands-on with the subject matter. Glass blowing provides that participatory style of learning. I'm thrilled these students have the chance to do something very few other high school students in the nation get to try."
"I'm here to work on my self-esteem," one student boldly responded, after being asked if they were excited about the glass program. After only three sessions of hands-on glass sculpting with glass artist and instructor Brian Frus, these students are already working collaboratively with one another, assisting in all aspects of each others' work.
Frus, instructor at Waterfall Arts and shop owner at Mainely Gallery and Studios (formerly Mainely Pottery), is currently at the helm of the Belfast Area High School and BCOPE glass studio classes, agrees. He doubles down on the value of the students' experiences that Tingle alludes to:
"Whatever it is, finding an outlet to let those expressions and explorations come in a new way when you're young is really impactful," he says. "And I think these kids are going to take the experiences they have in the arts and carry them forward–because it's more than just maybe dealing with personal emotions. It's also the broader learning and understanding of why arts are valuable in the world."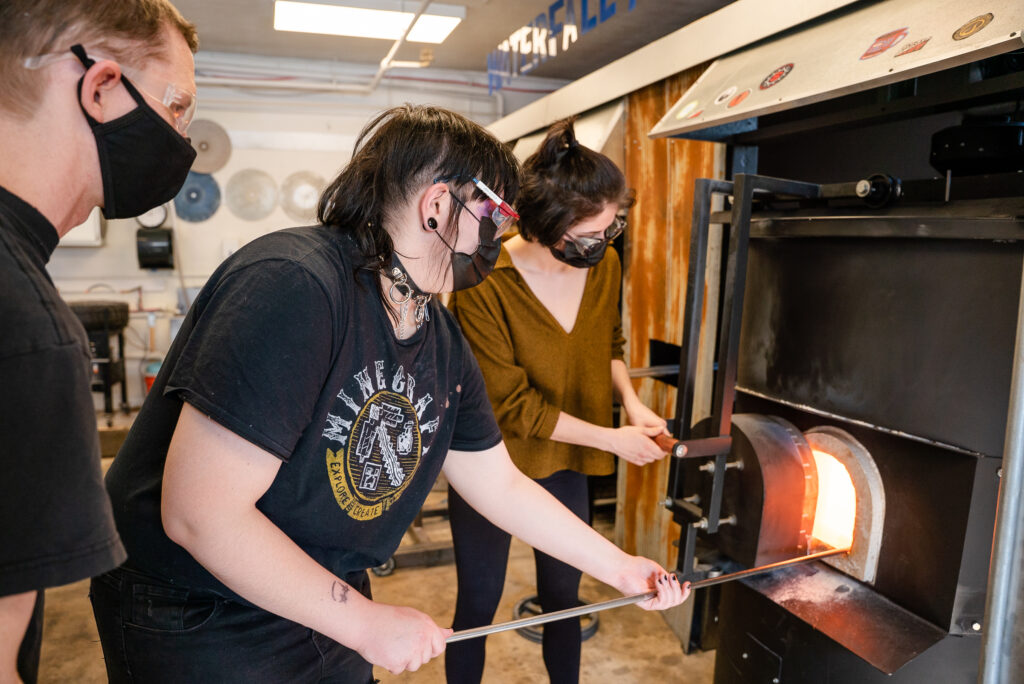 Scipione has noticed the benefits of the glassblowing class already, because "when we pick them up after class, the excitement is palpable. The glass blowing class at Waterfall Arts speaks to the heart of BCOPE as we continue to search for authentic community based partnerships that engage our population to not only address skill development but to also address personal development as well."
Waterfall Arts Glassworks is available for the public to experience the magic of hot glass, and information about the studio, class registration, and more can be found on the Waterfall Arts website.
Launched in 2000, Waterfall Arts is a community arts center that offers resources to arts enthusiasts of all ages and abilities. We welcome the public to engage in the arts through classes, exhibitions, art events, performances, public art projects, open studios (in clay, glass, print, and darkroom photography) and more. For more information, visit waterfallarts.org, call 207-338-2222 , or contact Chris Battaglia at chris@waterfallarts.org.