Fireside Chats are an enthusiastic experiment meant to ignite conversations, boost empathy, and offer a platform for shared stories to help all of us set new intentions for our collective future. The event takes place monthly on the front lawn at Waterfall Arts for anyone to gather around warm fire pits for a night of storytelling.
Coastal Mountains Land Trust was our featured nonprofit this month, and they kicked off the evening with a story centering a personal land/trail-based experience. Coastal Mountains Land Trust has worked since 1986 to permanently conserve land to benefit the natural and human communities of the western Penobscot Bay. The Land Trust has protected over 13,000 acres, offering 45 miles of trails for public recreation.
Our Marketing Manager, Chris Battaglia, shares some thoughts inspired by the January chat below.
---
Smack in the middle of January, 2022, there existed an excellent clear and cold weather spell that brought desirable pond skating conditions to midcoast Maine.
On two Sundays, I rented skates from Maine Sports Outfitters and tagged along with friend Nina Noah, from the Apprenticeshop, skating on ponds in Maine for the first time since moving to the state in 2015. It was a long-awaited outdoor winter activity, and more than 10 years after my last time wearing skates, the feeling was more than I could have hoped for. My memories of middle school ice rink birthday parties in Los Angeles–easy and clear Zamboni-groomed arenas–hardly compare to my newfound excitement gliding over natural fissures and dynamic topography of a lake's frozen, unpredictable surface.
Something we spoke about on the return skate from the northeast side of Fernald's Neck on Megunticook Lake stuck with me. We spoke about the notion of "getting to know a place really well," and I couldn't help but think that while this has been a goal of mine, it's something I've never really acted upon.
I thought about Tim Conte, a Waterfall Arts co-worker (and avid outdoor enthusiast), and how he has recounted, year after year, his thoughtful and highly considered annual trips to both Baxter State Park and Acadia National Park. In fact, his local exploration and thorough knowledge of the adjacent Camden Hills State Park inspired me, and when I think of someone who has looked at one place over and over again from different vantage points, it inspires me that he has truly gotten to know these places–proven by his ability to rattle off trail names and lean-tos with a recall as easy as if he were giving me directions to his house.
Our Fireside Chat occurred on the Thursday between my weekend skate adventures, and I couldn't help but relish in Ian's story about embarking on trails that began in his neighborhood in Seattle, and further out into the woods. Another storyteller, Patty, was eager to share her experience growing up on nearby Vinalhaven Island, and hoped to impart to younger folks the eagerness she felt to "be in wild places" that are now deemed "private land." 
And on this second occasion of fireside storytelling on the front lawn, I found myself summoning the performative courage and taking the microphone to tell stories I hadn't planned on sharing. In fact, I didn't even consider them "stories" in a well-told and well-practiced way. These stories were inspired by others' invocations along the theme of the night. On this night, I was inspired to share a story from 2013 about my water trail-based experience filming a canoe expedition along the Mississippi River.
Surrounded by children's book authors and editors, poets and writers, architects and painters alike, I had a realization (after the fact) that these two storytelling events have helped me hear my true motivations; my most pared-down and edited versions of tales helped reveal myself to myself. This January Fireside Chat event surprised me and I could feel its rewards the moment I passed the mic to the next storyteller. The stories told intensified and seemed to get better and better as the evening went on.
And, to be sure, Ian's geographically relevant history of the Belfast Rail Trail would have made any local delight in at least one part of his story. Which one? Find out for yourself!
Ian's personal and Belfast Rail Trail stories are included in both audio and transcript form below.
Many thanks to Ian, Leah, and Coastal Mountains Land Trust for partnering with Waterfall Arts on this event. Stay tuned for the recap from February's event with Belfast Flying Shoes.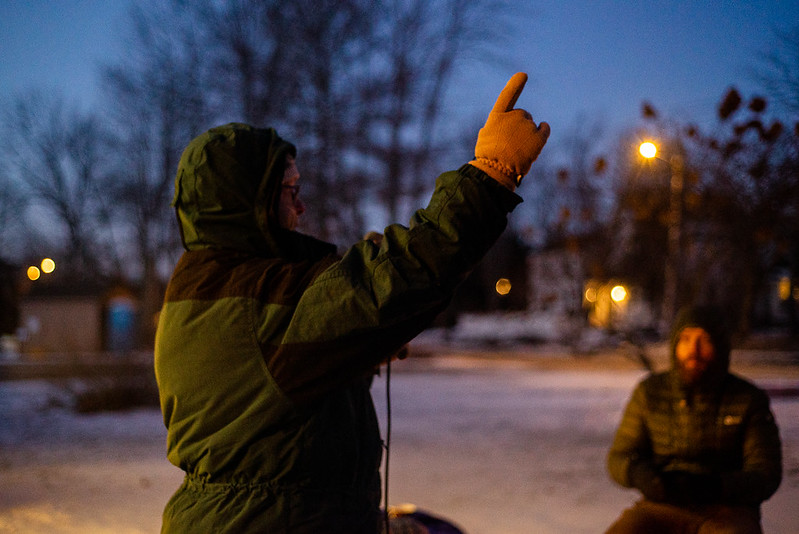 More photos on Flickr here.
Transcript:
Ian Stewart: Well, thank you everybody. Lovely to be out in the weather together. Wonderful energy here. So everybody hear me okay? Great.
So I just was going to tell a story of both sort of a personal tale of trails, and then how that brought me to the work of Coastal Mountains Land Trust and conservation, because they–as I'm sure many of you here, working Waterfall Arts, what drives you to do this kind of work is very personal. And for me, trails are what brought me to conservation, and a very selfish desire to be outside and exploring nature. So, and along the way, I want to tell the story of the Belfast Rail Trail, which I'm sure you've all enjoyed here in Belfast, but the interest is a big part of it, which brought me sort of full circle with trails and conservation.
So I grew up in Seattle, and for me trails, both then and now, have always been a really important public space in their place that connects us together as people where we can meet and meet each other and go from one place to another. But they're also a way to get you from, in my case, from where you are in the city or in the town, out to the wild and to nature. And so for me, as a kid, they were a way to find a way out of the city and into the woods.
And I was lucky in Seattle to grow up on a rail trail in the city and found that it was–you know, at the time, I didn't appreciate it, but it was–that trail that took me between my friends' houses, it took me to my first girlfriend's house, it took me to school, and I was just constantly out. It was also, I guess, the first place I was kind of out on my own where my parents felt comfortable saying, Go get gone for the day, go do what you want to do.
And I would get on my bike, or I would walk, and I would cross town and go do things on trails. And I didn't appreciate how much that was a part of growing up until much later. And then also, it was very fortunate to spend a lot of time growing up hiking in the Cascades and in the Olympic mountains on extraordinary trails.
And then when I was 16 and got my first job–beyond a paper route and whatnot–working for an organization called SCA, which is the Student Conservation Association, and I went to California and spent six weeks working in the backcountry of Point Reyes National Seashore building trails. So digging water bars and trails, doing drainage work, but all the time camping and seriously falling in love with being able to be outside using a porta potty, and sleeping in a tent with four other boys who were smelly, and you know just being outdoors and immersed in the outdoors.
And all that experience really made me think not just why I love trails, but also made me begin to ask the question: How do these places that trails are in, happen? How do National Parks get created? How do conservation areas get created? How the preserves happen. And you know, Point Reyes National Seashore is a 75,000 acre, natural area within an hour and a half of San Francisco that if you spend time there, it just feels impossibly natural and open compared to the urban area so nearby.
So all of that experience being being given the time to be outdoors and on trails as a kid from my parents, and then having some really fun early experiences working outdoors, made me want to move forward in some way to find out a way to to get into the field of conservation and doing work to create more, more trails and more natural areas, of which there's not a really clear path. But many, many years later, I found my way to Maine, both for college and then back to Maine for working with Coastal Mountains Land Trust, my first job out of graduate school. And at the time, Coastal Mountains was very much a traditional land trust that focused on acres in species conservation and wild lands and didn't do a whole lot with public access. And I'm very proud that in the last 20 years of the organization, there's been a real approach to not just continuing to conserve land, and natural areas for species and wildlife and you know, climate protection and water quality, all those things, but also a real commitment to protecting land and building trails more and more so that people get out, enjoy these places and appreciate them and get involved.
And I think the project that was probably more emblematic of that than anything was the–is the Belfast Rail Trail, which began as a conversation in 2007 between the city and the land trust and at the time, I believe it was the–I'm forgetting name of the foundation that actually owns the Rail Trail. But a conversation about how to protect that corridor, which was an amazing opportunity to see a linear trail feature between downtown and what was an emerging area of interest for us to conserve land along the way, if you know the Head of Tide Preserve, and the Stover Preserve and those areas.
And so, but as with any good project, it was quite complicated at first, when the land trust was interested in acquiring the Rail Trail. The concern was because the rail had originally been taken for rail purposes, that if the land trust was to buy it, that all 22 landowners along the railroad would have the right to sue the land trust to get their land back. And so that was sort of a big roadblock in the discussion. Needless to say, and then and that was figured out that if, in fact, rail was maintained as a right, but put in what's called a 'rail bank,' so the federal government maintains the right to return rail to the rail trail in theory someday. So they still hold that right. But that the city, if they became the owners, the land trust, could raise the funds to help acquire the land and put the trail in. And so what I like about the story about the rail trail was it was a real broad community effort, there were a lot of private citizens involved.
The city was very active. The public works department was a huge ally in the project, they went out and spent a lot of time contributing to the rehab of the trail. And the Land Trust kind of played this role of pulling all those pieces together. But for me, of all the projects that the Land Trust's done, going out on the Rail Trail and just seeing the amazing number of people getting outside, not necessarily with the intention of you know, going out on a 'nature hike,' but just to get outdoors and enjoy being out is is quite wonderful.
And so, what I like to think the Rail Trail was one of the first projects we did that sort of took us really actively into trails, subsequently, we've worked on the Round the Mountain project in Camden and Rockport, which is an emerging nine mile multi-use trail system around Ragged Mountain, which is a really beautiful and accessible place. You know we've had people with, we had Maine Adaptive out recently, which is an organization that fosters people with disabilities to get out with all kinds of cool equipment to get on to trails. So it's really accessible to a broader range of users.
And I'm just really excited to see where we go from here with building more trails. I think the Rail Trail has all kinds of opportunities to continue. Of course you have the Hills To Sea Trail, which is a wonderful grassroots effort, locally, that takes the trail on foot all the way out to Frye Mountain and beyond. But the Land Trust has interest in seeing the rail trail continue, either on its own rail bed, there's another 30 miles to Burnham Junction, which the state owns. But then there's also some connections out to Hurds pond, for example, which is out across the Swanville Town line– it is a beautiful natural area that we've been conserving and we'd love to see some more trails out there. So, again, I really love the work that the land trust is doing. There's conserved about over 13,000 acres of land.
But for me, it kind of comes back to, you know, why do you go to work every day? What motivates you? And for me, it harkens back to spending time on trails and getting outdoors, now with my kids who I love to let free on trails and let run around and do what they want to do. So I think that's where I'll end.
Thank you very much.