FOR IMMEDIATE RELEASE
Belfast Co-op and Waterfall Arts are teaming up for a winter fundraiser this January.
(BELFAST) The Belfast Co-op and the Waterfall Arts Kids and Family Program are working together on a winter fundraiser this January for Waldo Community Action Partners (WCAP). Sixth grade Bridge Afterschool Art Club members chose WCAP from a slew of wonderful local organizations that keep folks warm and safe because the organization seems to do a bit of everything people need this time of year, like heating assistance, winter coats, and buying groceries.
Young artists hustled to decorate over a hundred paper mittens before January arrived, ultimately making their way to the Co-op registers. A dazzling display of one-of-a-kind mittens will be hung in the front windows – one for every donation made to WaldoCAP.
Shoppers may also take home a coloring sheet to complete at home if they would like to contribute an artful mitten to the display.
Decorated mittens will be sold at the register for one dollar for the month of January. The mittens are a fundraiser for WCAP and their winter assistance programming. Hung in the windows, the mittens will help bring art into the community and raise awareness about the need for heat and winter clothes in Waldo County.
Belfast Co-op Outreach Coordinator Alessandra Martinelli says, "Our co-op is similar to a regular grocery store in many ways, but it's the differences that make us special. The Belfast Co-op is a full-service market plus a resource that is owned by you, our community. While everyone is welcome to shop, eat and hang out at the Co-op, owners receive added benefits. When you shop at a co-op, you are buying into a better world. The Belfast Co-op is here for you so that everyone will always have reliable, safe access to good local food. Giving back to the community our owners and workers live in is one of the strongest parts of our identity."
Waldo Community Action Partners is a Belfast-based organization founded in 1965, dedicated to helping their community through their mission of "Building strong families and communities by empowering people to achieve economic independence and self-reliance." Their programs help families heat their homes, get winter jackets for their children, and purchase groceries. They also provide transportation services to medical appointments and early childhood education.
Located in the heart of downtown, the Belfast Co-op has been serving our area since 1976. Everyone is welcome to shop at the Co-op: it is our mission and our pleasure to bring locally sourced, reasonably priced, organic, and natural products to all.
Launched in 2000, Waterfall Arts is a community arts center that offers resources to arts enthusiasts of all ages and abilities. We welcome the public to engage in the arts through classes, exhibitions, art events, performances, public art projects, open studios (in clay, glass, print, and darkroom photography) and more.
Photos: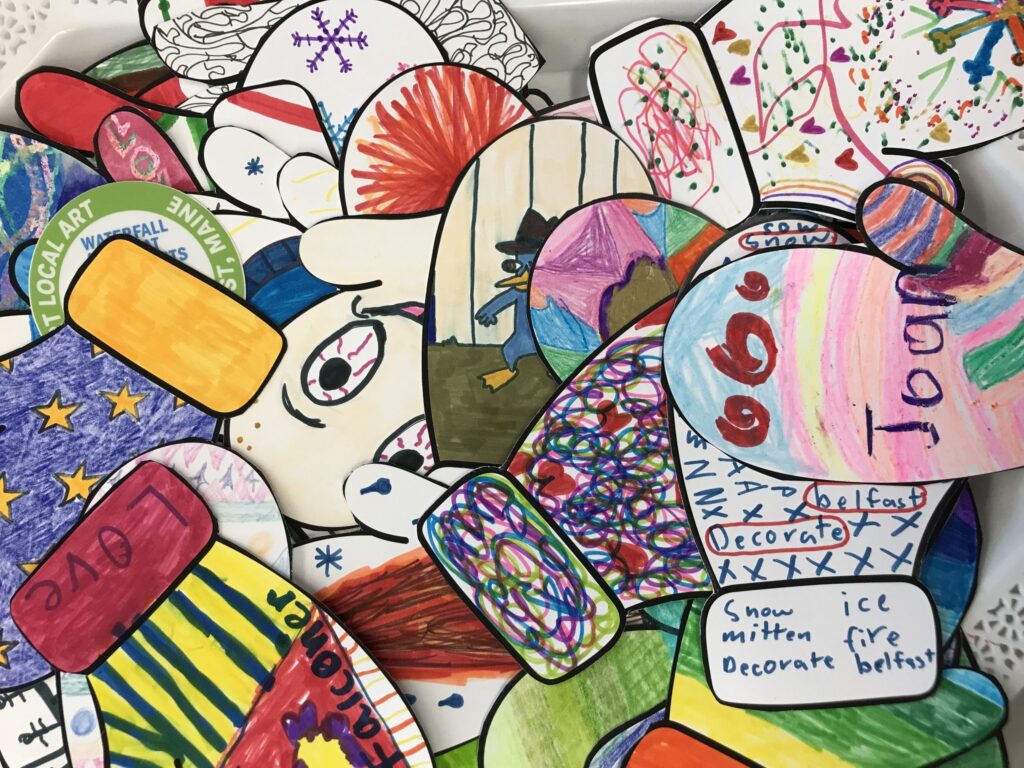 Photo: An assortment of the paper mittens from the Bridge Afterschool Art Club that will decorate the Belfast Co-op window in January.
Photo: Bridge Junior artists Joan (left) and Juliet (right) decorating paper mittens in December for the partnership with the Belfast Co-op.